***

There's a pernicious rumor circulating on the web that the house featured in the movie, "The Notebook," is a Sears Magnolia.
That's not correct. The house featured in "The Notebook" is not a Sears House.
And yes, I am sure!  100% abso-looterly certain!
Take a good look at the house featured in the movie (click here, and scroll down to the white house) and compare it to a real Sears Magnolia (pictured below).
These two houses (the real Sears Magnolia and the house shown in "The Notebook") are actually radically different.
Don't look at the whole. Look at the details!! Just because they're both a two-story white house with a hip roof and big columns, that's not enough.
For instance, take a moment and study the roof line. The porch roof over the real Magnolia is a very low hip roof. The porch roof over The Notebook House is a massive gabled roof with a half-round window within its gable. The Magnolia has a little hipped dormer. The Notebook house does not.
Also, the proportions are wrong. The Sears Magnolia is 2,940 square feet. The Notebook house is probably double that.
These details really do matter.
There are so many delightful things about being so deeply immersed in this avocation of Sears Homes, but trying to teach people how to pay attention to architectural details before deciding that a similar looking house is a Sears House is pretty unfun. There are about 70,000 Sears homes in the country. Judging from my mail, about 3.4 million people THINK they have a Sears House!
The real Sears Magnolia (catalog), and a picture of the Magnolia in Benson, North Carolina (below).
To learn more about how to identify a Sears Home, click here.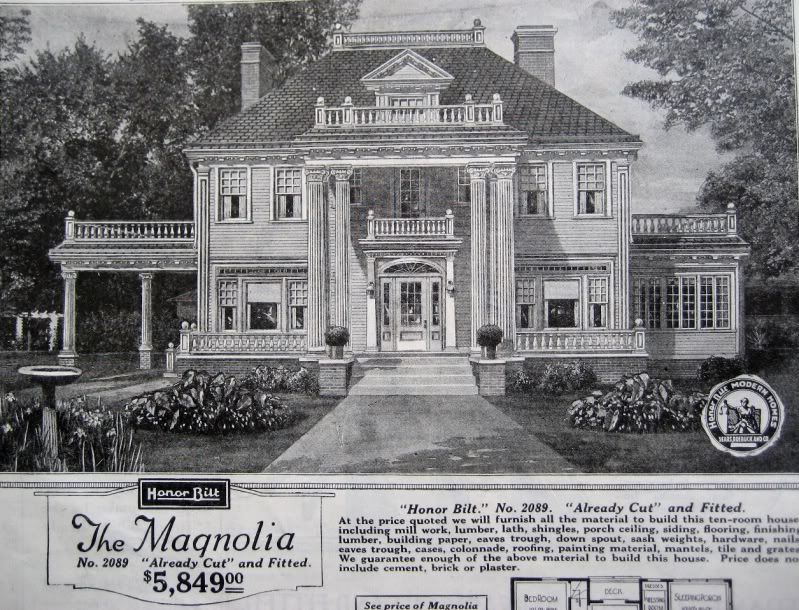 To learn more about Sears Homes, click here.
To buy Rose's book, click here.
*   *   *