The young woman's face in the old photo looked hauntingly familiar, but who was she?
It all started June 13, 2011, when I cleaned out the apartment at my late father's assisted living facility and found a book of old photos. The most significant clue was this lone sentence on the back of a wedding photo: "Enoch and Addie Hoyt Fargo on their wedding day, 1896."
Thanks to David Spriggs (a local historian and kind soul), I learned that Enoch  and Addie lived in Lake Mills, WI, and that Addie was my great, great Aunt.
Addie was 22 years younger than Enoch and she was his second wife. She was 24 at the time of her marriage to Enoch, and only four years older than Enoch's eldest daughter (Elsie Fargo). This was Addie's first marriage and it would be her last. According to two published accounts, her ever-loving husband Enoch slipped into Addie's bedroom about 2:00 am on June 19, 1901, and put a bullet in her brain while she lay sleeping. Addie was only 29 years old when her life was taken.
The story is that Enoch had fallen in love with Martha ("Maddie") Louise Hoyt (no relation to Addie Hoyt).
Seven months after young Addie died, Enoch married his third wife, Martha (in February 1902). It caused quite a scandal at the time. A proper period of mourning in the Victorian era was a minimum of twelve months. Remarriage during the period of mourning was unthinkable.
Maddie (wife #3) died in 1964, having outlived Enoch by 40 years. Enoch died in 1921 in Tarpon Springs, Florida. Maddie was living in California at the time of Enoch's death. If I were married to Enoch, I also would have put 3,000 miles between me and the hubby.
My grandfather (who passed on in 1989) was a real fan of both history and genealogy, and yet no one in the Fuller clan had heard about Aunt Addie, prior to the discovery of this photo album. My 92-year-old Uncle Ed (my father's twin brother), doesn't remember hearing about Aunt Addie, either.
Anna Hoyt was my great-grandmother, and Anna and Addie were sisters. Anna Hoyt ended up marrying Wilbur W. Whitmore and landed in Denver, Colorado. This photo album that I found amongst my father's treasured possessions was inscribed, "A Merry Christmas, to Wilbur, from Addie." (To see photos of Anna and Wilbur, click here.)
Anna and Addie had a baby brother, Eugene B. Hoyt (1874-1950) that never married. Anna died four months shy of her 100th birthday (1866-1966). It would seem that dear Aunt Addie died about 70 years before her time.
The Fuller clan (of which I am one) are Addie Hoyt Fargo's closest (and perhaps only) living relatives.
Many thanks to David Spriggs (Norfolk) and Bruce A. Samoore, Volunteer Historical Researcher (Wisconsin) for discovering much of the genealogical information.
*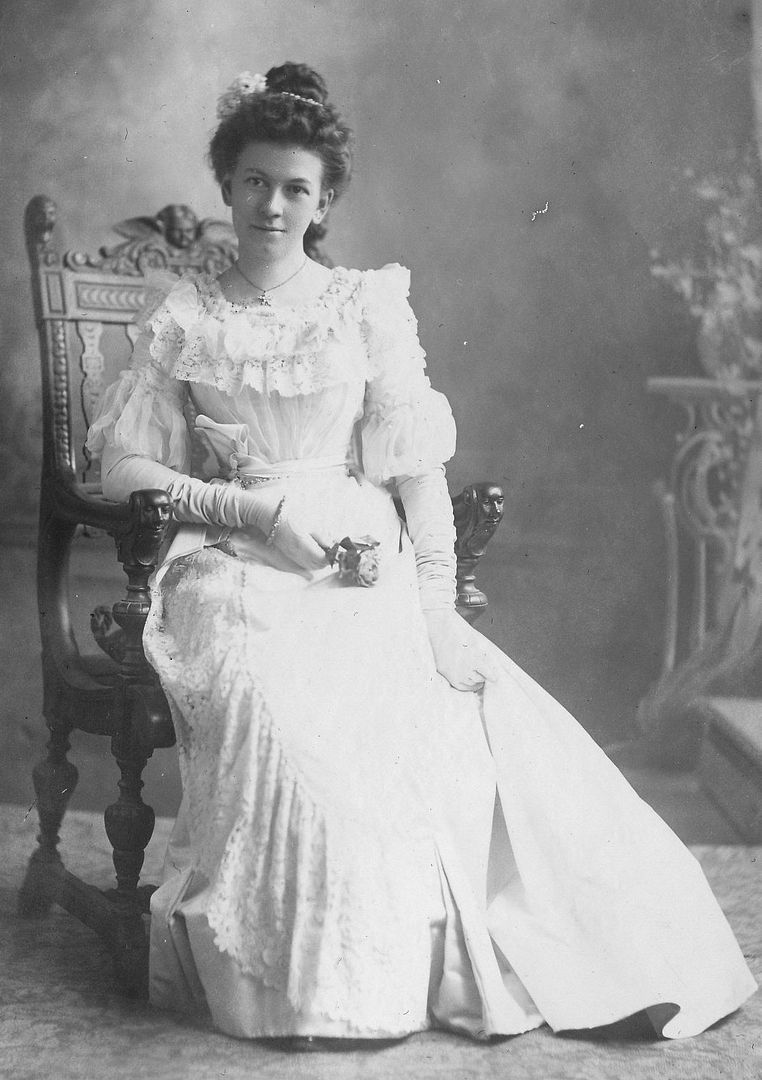 When I first started looking at these photos, I thought that Addie had it all. Here she was, a beautiful young woman married to an older wealthy gent. He moved her into the family home, a Victorian manse built in 1881. Hers was a life of wealth, privilege, comfort and opulence – for a time.
*
To read more about Addie Hoyt's murder, click here.
To learn about the kit homes in Lake Mills, click here.
*   *   *