Sears Homes in Tulsa?
That was my first thought when Rachel Shoemaker of Tulsa contacted me. She said that she thought there were several homes in her town.
Now if she'd been writing from Illinois, Indiana, Michigan or Ohio, I wouldn't have been so surprised.
But Tulsa?
In the last 10 years, I've received probably 5,000 emails and I've never heard much from the folks in Oklahoma. In fact, Rebecca Hunter's wonderful book, "Putting Sears Homes on the Map" lists states with known Sears Homes. Rebecca went through thousands of pages of old catalogs, noting all the testimonials from folks, and then compiled that info into one easy-to-use book. There are two states that have no kit homes listed: Oklahoma and Oregon.
Besides, Oklahoma didn't become a state until 1907. They were still fighting off Injuns and would not have had time to read a 75-page instruction book on how to build a kit that contained 12,000 pieces of house. (I've watched 106 episodes of Gunsmoke. I know about this stuff.)
Rachel sent me a couple photos and I was impressed. And then Sunday night (July 3), I stayed up way too late driving the streets of Tulsa via Google Maps, and I found two more kit homes.
If you know the address of a kit home in Oklahoma, please leave a comment below!
Below is a compilation of what Rachel has found  (with a little help from me). All photos of extant homes are copyright 2011 Rachel Shoemaker and can not be reproduced without written permission.  Photo of Wardway Modern Home #105 is copyright 2010 Dale Wolicki.
And as an added note, if you enjoy these pictures, please leave a comment below for Rachel, as she has invested countless hours of her own time and money researching and photographing these houses.
This is an impressive array of kit homes, and this collection should be preserved and protected, and further research should be done. Don't let this amazing chapter of Tulsa's history fall back into the shadows of lost memories and forgotten treasures.
Montgomery Ward also sold kit homes, but they can be tough to find, especially in land as far south as Tulsa! Based on some educated guessing, fewer than 25,000 Wardway Homes were built. In Tulsa, we found Modern Home #105. It's a modest little house, but it's also a distinctive house with several eye-catching features. And perhaps best of all, "Farmers all over the country are giving this comfortable home the preference."
To learn more about Wardway Homes, click here.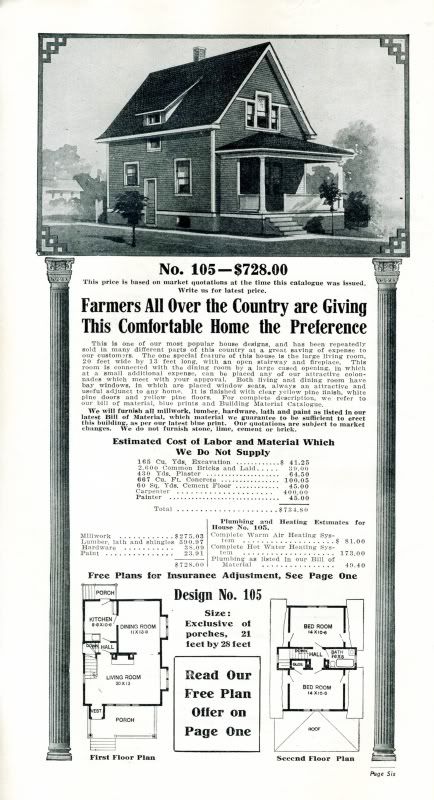 To buy Rose's book, click here.
To read about the first Sears Home in Oklahoma, click here.
*   *   *