Despite a last-minute plea from desperate Missourians, the 8th U.S. Circuit Court of Appeals said the plan to flood 132,000 acres of prime Missouri farmland will go forward. Flooding the farms will spare the tiny town of Cairo, Illinois, population – 2,800.
The Chicago Tribune is reporting that as of yesterday (Saturday, April 30th), floodwaters in Cairo crested at 59.2 feet, and have now reached 59.8 feet (as of 3:40 pm, EST). If the levees in Cairo give way, the town will be flooded. Opening up levees on the farmland in Missouri will spare Cairo, and ruin the farmland for years.
The Chicago Tribune is also reporting that crops have already been planted on some of the farms that will be inundated with this "man-made tsunami," destroying the crops and causing hundreds of thousands of dollars of damage to the local farmers. In addition, about 100 homes would be lost.
Cairo is an interesting little town, and was full of history, but much of their historically significant architecture is gone, and the remnant is in poor condition. A few grand old manses remain, but they're the exception. Most of the businesses and all of the industry left long ago. Cairo's downtown is a ghost town, and a virtual trip back in time to the 1960s. To learn more about Cairo's history, click here.
We've got to protect our farms. With the rising costs of food, it's time to start showing a little respect to the few family farms we have left in this country, many of which are in Missouri.
This time, it might be best to let Cairo be the sacrificial lamb, rather than lose our farmland.
Pictures of Cairo are below.
Entrance to Cairo. The old flood gates are no longer in working, but the old rivers still work really, really well.
*
Part of the charm of the downtown is it really is a step back in time. Notice the vintage cat in the foreground.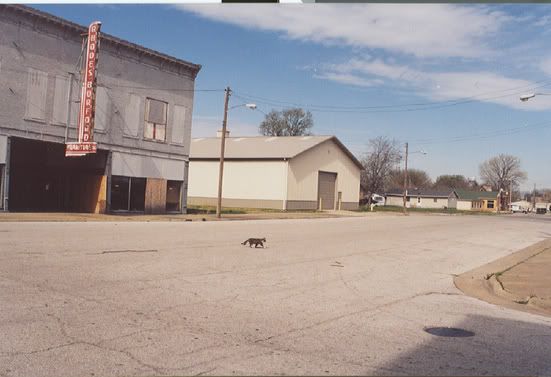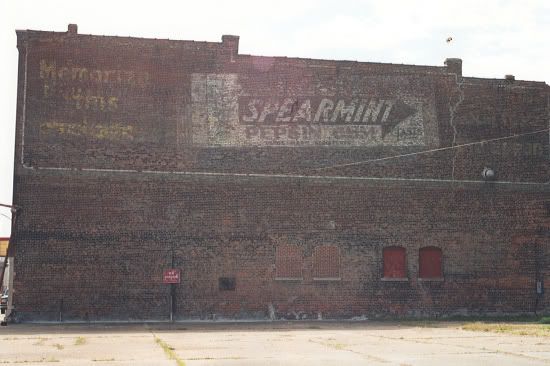 Spearmint "Pepsin Gum" surely got their money's worth out of this old advertisement.
To learn more about Cairo, click here.
To learn more about Sears Homes, click here.
* * *