An EPA press release (3/23/2011) proclaims that this government agency has successfully taken a 2×4 to the knees of yet another small business.
They've inflicted a $30,000+ fine on a Connecticut-based construction company for the unspeakably horrific crime of…get ready for it…
"Failure to hand out a governmental brochure to potential customers."
Good for the EPA. We've got way too many small businesses in this country. Those entrepreneurial types are not to be trusted.
With a few more successes like this, the EPA will soon be wholly successful in fulfilling their stated purpose: The full-scale ruination of America's independent contractors, and – as a bonus – the unintended consequence of destroying the value of America's pre-1978 housing stock.
Before long, it'll cost $836,083 to paint the window sills in your 1917 Bungalow.  Well, that's an exaggeration, because chances are, you won't be able to find a contractor willing to do the work – at ANY price.
Milford, Conn. Window and Siding Company to Pay Fine for Lead Notification Violations

Release date: 03/23/2011

A Milford, Conn. company has agreed to pay $30,702 to settle claims by EPA that it failed to provide lead hazard information to home owners or occupants before doing renovations that may have disturbed surfaces coated with lead-based paint.

The settlement resolves claims made by EPA's New England office that Permanent Siding and Windows, a contractor specializing in spray-on vinyl siding and replacing windows and doors, failed to provide EPA's lead hazard information pamphlet to at least 17 owners or occupants before the company began renovation activities. This pamphlet is required by the federal Pre-Renovation Rule and helps educate home owners or occupants on how to minimize their exposure to hazardous lead dust that is often generated during sanding, cutting, demolition or other renovation activities. The pamphlet also provides resources for more information about lead. The violations in this case took place during renovation work done between January 2006 and March 2009.
Permanent Siding has certified that it is now in compliance with EPA's Pre-Renovation rule and will submit a report to EPA later this year to demonstrate their continued compliance with this Rule.
"EPA requires companies to provide these pamphlets in order to protect families from health and safety hazards in the home," said Curt Spalding, regional administrator of EPA's New England office. "Property owners and occupants have a right to know about the dangers posed by renovations that involve lead."
The federal lead law applies to all pre-1978 housing since, without testing, homes built before 1978 are presumed to contain lead-based paint. The settlement stems from a March 2009 EPA inspection and documentation Permanent Siding provided to the EPA.
*    *    *
Below is a picture of a contractor who just learned about the newest EPA regulations.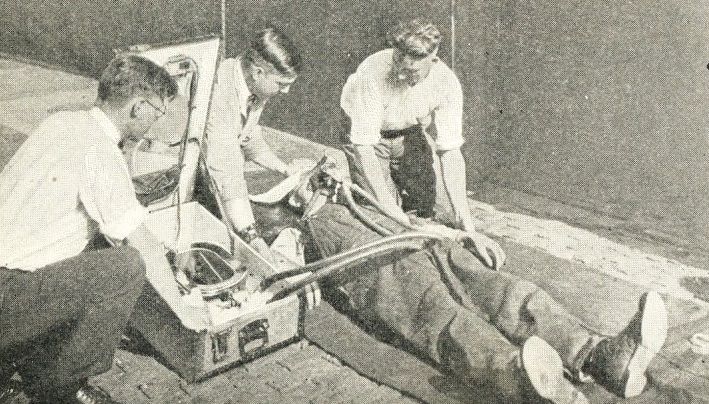 To read an article about the happy, happy Sears Homes in Hampton Roads, click here.
To read another article about the EPA (blech), click here.
*   *   *