More than 80% of the time, people who think they have a Sears kit home are wrong. Often, those folks do have a kit home, but it's not a kit home from Sears. Here in Virginia (where I live), most "Sears homes" that I investigate turn out to be kit homes from Aladdin.
Aladdin was based in Bay City, Michigan (a long way from Virginia), but they had a lumber mill in Wilmington, North Carolina (not so far from Virginia).
Hopewell, Virginia has eight Sears homes in their Crescent Hills neighborhood, but they have dozens of Aladdin kit homes throughout the city. It's a puzzle why so much focus is put on those eight Sears Homes, while the many Aladdin homes are ignored! If I were a little Aladdin Home in Hopewell, I might feel snubbed!
The eight Sears Homes in Crescent Hills are fine-looking residences. The cluster of Aladdin homes are definitely more modest, but they also have a story to tell. They tell about Dupont coming to Hopewell in the early 1900s and building a factory and creating jobs and investing in modest homes for their workers.
And it's a part of Hopewell's history that's getting lost – quickly. Judging by the landscape in this neighborhood (where the Aladdin Homes are located), countless numbers of these modest homes have already been leveled. Perhaps as people become aware that this is a piece of Hopewell's history, the rest of these houses might be spared.
Unfortunately, I know very little about Hopewell's history and I'm hoping my readers will share what they know by leaving a comment.
In the coming days, I'll post several blogs on Hopewell and their Aladdin kit homes, but I'll start by featuring the Aladdin Edison.
Enjoy the photos and please leave a comment.
*
*
*
The Aladdin Edison was really a pretty small house. Take a look at the floor plan. How many people today would be content in such a wee tiny house? Typically, the front porch is enclosed on these 90+ year-old houses to create a little more living space. Enclosing the porch created an additional 240 square feet. Pretty significant in a house that measured 30 x 20.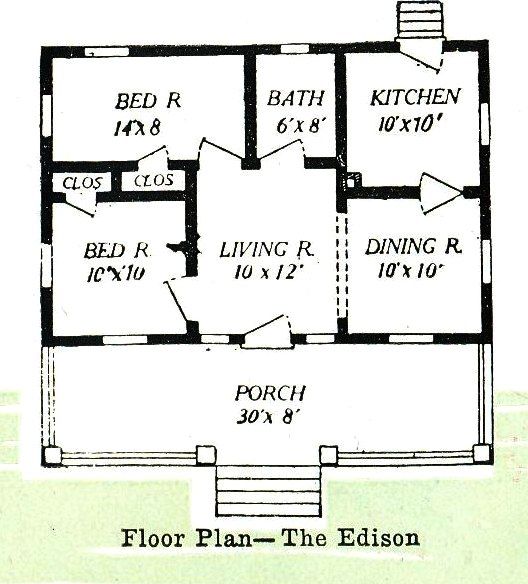 To learn more about Hopewell's kit homes, click here.
To learn more about Sears Homes, click here.
To buy Rose's book, click here.
*   *   *