In its heyday, Cairo was a bustling river town and was home to captains of industry, shipping magnates, wealthy business people and other "people of note." It's even mentioned in James A Michener's epic miniseries, "Centennial." IT earned a spot in Michener's book because in the late 1800s, Cairo was the gateway to the west.
The first time I saw downtown Cairo, I stopped my car in the middle of the deserted street and stared in disbelief. The entire business district, which comprised several blocks of brick streets in beautiful condition, was empty – silent, still and devoid of all movement. Had it not been for a piece of trash blowing down the middle of the street, the scene before me would have been wholly motionless.
The stillness, the quiet, the absence of any sign of life was fascinating, yet also left me wondering if the next sound I heard would be the theme from The Twilight Zone with a voice-over by Rod Serling.
In the mid-1960s, racial unrest and riots were a sad part of the American landscape, but in Cairo, things went especially badly. African-Americans, weary of Jim Crow laws and disparate treatment, threatened to boycott businesses that employed only whites. White business owners responded by closing their stores. Large numbers of families left the area and never returned. Industry left. Businesses closed. Wealthy people took their capital and moved away.
Today, downtown Cairo is a ghost town – an incredible time capsule – frozen in the 1960s. The city that once boasted of 14,000 citizens now has about 3000 people living within its borders.
Outside of downtown, things aren't much better. The burnt out hull of old buildings remain, the architectural victims of bored miscreants.  There's no money in the state or local budget to raze the remnants of these destroyed homes. Folks often say California is on the cusp of bankruptcy. Illinois can't be far behind, and Cairo is the poster-child for an American city that went from princely to pauper.
In the early 1900s, Cairo was the site of a 40-acre Sears Mill, where Sears kit homes were milled and shipped out to all 48 states. It was a vibrant business, in an important southern town. Cairo's location at the confluence of the Ohio and Mississippi Rivers made it a natural for shipping and distribution. At the turn of the last century, Cairo (pronounced "Care-Roe") could boast of having four major rail lines, enabling it to become a centralized shipping point for lumber harvested from the South and sent to the North.
In Spring 2010, I returned to Cairo and visited the town again. More burned out buildings, more desolation, more depressing sites.  What's happening to our once-great land that we now have cities that are in collapse, and states that are in bankruptcy?
I've nothing pithy to add to this sad story. Pictures tell the story far better than I could.
Entrance to Cairo. The old flood dates are no longer in working, but the old rivers still work really, really well.
*
Part of the charm of the downtown is it really is a step back in time. Notice the vintage cat in the foreground.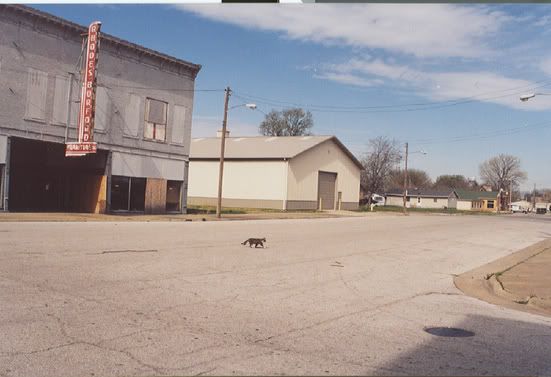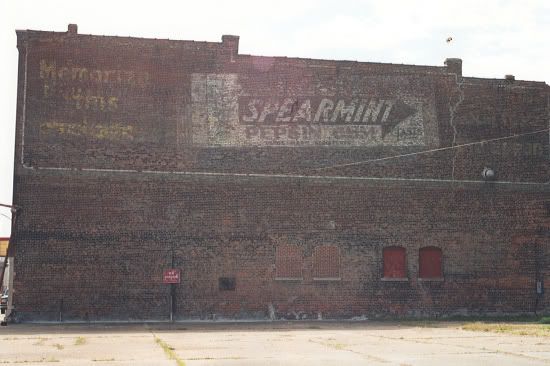 Spearmint "Pepsin Gum" surely got their money's worth out of this old advertisement.
To learn more about Cairo, click here.
To learn more about Sears Homes, click here.
*       *       *