In 1918, Standard Oil of Indiana made mail-order history when they placed a $1 million order with Sears Roebuck & Company for 192 Honor-Bilt homes. It was purported to be the largest order in the history of the Sears Modern Homes department. Standard Oil purchased the houses for their refinery workers in Southwestern Illinois.
Of those 192 houses, 156 went to Carlinville, 12 were built in Schoper and 24 were sent to Wood River. Throughout the 1920s, pictures of these homes were prominently featured in the front pages of the Sears Modern Homes catalogs.
Construction of the 156 houses took nine months, not six as expected. The reason? A nationwide shortage of wheat. Charles Fitzgerald, spokesman for Standard Oil and Manager of Houses explained to The Chicago Daily Tribune (November 3, 1919) what happened.
"The company (Standard Oil) purchased a forty acre wheat field and the government would not permit the destruction of the crop," he said. "On the first home, we were erecting the studding while the harvesters were shocking wheat twenty yards away."
According to the papers of the day, "smut" was another reason for the wheat shortage. When I first read about smut and the wheat shortage, I imagined a large group of idle field workers, sitting cross-legged in the expansive fields, poring over magazines with pictures of scantily-clad women.
Smut is a particularly nasty fungus that creates black, odious spores and ruins wheat crops. In 1919, smut damaged a large proportion of America's wheat fields.
And "shocking" was another interesting term. As a city girl, I'd never heard that phrase before. "Wheat shockers" are the field workers who bundle up the wheat.
While doing research for my book The Houses that Sears Built, I read hundreds of newspaper and articles from the early 1900s and learned that there is a wholly different vernacular for that time period. Words have different meaning in different times.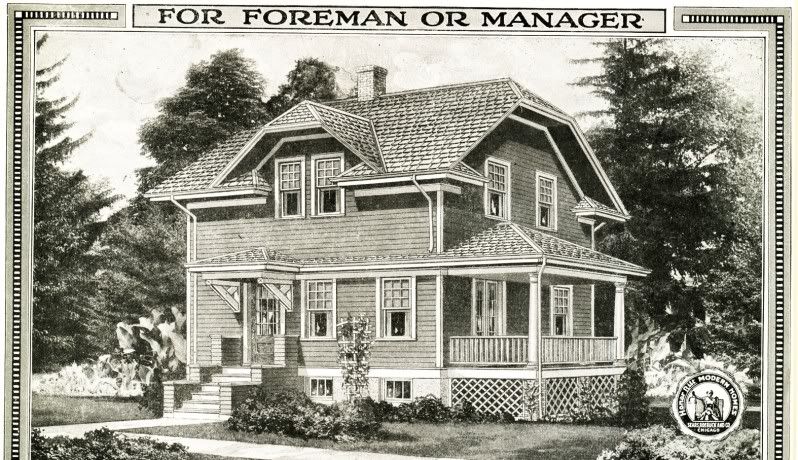 To learn more about the Sears Homes of Illinois, click here.
*
To learn more about Sears Homes, click here.
*