Several years ago when I was a freelance writer, I was asked to do a feature story on the Foursquare housing style, which is so prevalent in the Midwest (and was also a popular style for Sears Homes. My editor said I needed to get into a few houses and take plenty of interior shots, too. I found a kind soul in Illinois that allowed me to come right in to her home and take several pictures.
In the dining room/living room area, I saw that she had built-in bookcase colonnades between the two rooms. This is a nice feature that is frequently found in these foursquare homes. As I turned the corner into her dining room, I saw that the bookcases on the dining room side had glass doors. I was busy snapping photos and looking through the SLR viewfinder (this was in the old 35-mm film days) when I saw a small child looking back at me on the other side of those glass doors. I let out an audible gasp and lowered the camera.
And this is what I saw: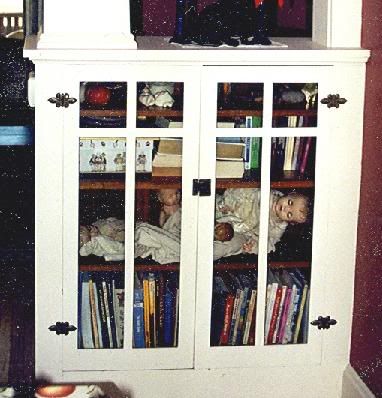 I sent the image to my editor who wrote back and said, "Thanks for sharing that. I've asked my husband to start working on one immediately that's big enough for several teenagers."
Despite my encouragement, my editor decided not to publish this particular photo with the other images.
And I thought it was some of my best work. 🙂