In May 1911, Sears opened up a mill in Cairo, Illinois. Cairo's location at the confluence of the Ohio and Mississippi Rivers made it a natural for shipping and distribution. At the turn of the last century, Cairo (pronounced "Care-Roe") could boast of having four major rail lines, enabling it to become a centralized shipping point for lumber harvested from the South and sent to the North.
The Sears Roebuck Mill, also known as the Illinois Lumber Company, got its start when Sears Roebuck paid $12,500 for a 40-acre tract in North Cairo.
On May 21, 1911, The Chicago Tribune reported that Sears intended to build a $250,000 plant. A few weeks later, The Cairo Evening Citizen had doubled that figure and reported "Half a million to be cost of new Sears Roebuck Plant" (July 29, 1911).
In November 1911, Sears ran a two-page advertisement in American Carpenter and Builder Magazine headlined "Great News for Builders." The advertisement (see below) said,
Shipments have begun from our second and newest great lumber plant in Illinois. We can deliver you bright, fresh, clean lumber at manufacturer's prices almost as quickly as you can haul makeshift sizes and weatherworn stock from a high priced neighboring lumber yard. Our mill work is sheltered from rain, sun, soot and wind. Our new Illinois plant is located on two of the largest and fastest railroads in the North with direct connections to over 20 different railroads. (Weatherworn stock was a reference to the fact that, unlike Sears, many mills did not keep their lumber under roof.)
In March 1912, F. E. Van Alstine, Superintendent of the Sears mill was quoted in The Cairo Evening Citizen as saying that Sears had chosen Cairo because of "their low freight rates, superior shipping facilities and other natural and commercial advantages, (which) made the city more desirable than St. Louis, East St. Louis, Paducah (Kentucky) or Memphis" (Tennessee).
But later that month, the rains came and the floodwaters rose, nearly destroying the brand new mill in Northern Cairo. On April 5th, The Cairo Evening Citizen reported that the "main building of the new Sears Roebuck factory was hurled off its foundation and is leaning toward the east. Just what damage was done to these buildings could not be ascertained, as there was no way to reach them except by skiff."
In mid-April, the paper said that all seven lumber sheds had been torn from their foundations and much of the lumber inside the sheds had simply floated away.
By August, The Cairo Evening Citizen happily reported that despite the hard times and high waters, Sears Roebuck had decided to remain in Cairo. It also reported that about half the lumber sheds had been rebuilt and some of that floating lumber had been recovered. The same article reported that the folks at Sears corporate headquarters in Chicago were so pleased with Van Alstine's post-flood restoration work that they presented him with a brand new automobile.
The mill produced everything for the Ready-Cut (precut) Sears homes except for millwork. The Sears mill located in Norwood, Ohio, supplied millwork; windows, doors and interior trim and moldings.
By the early 1930s, sales of Ready-Cut homes had plummeted and the mill began looking for other ways to generate income. They began building crating material for tractors and other large equipment, including Frigidaire refrigerators and appliances sold by Sears. In the late 30s, the mill produced prefabricated buildings for the camps which housed workers in the Civilian Conservation Corps. Wheeler relates that a typical CCC camp (which included several different buildings) required 400,000 feet of lumber and about 35 of these camps were milled and shipped by the Cairo plant.
In 1940, Sears closed the plant and sold it to the employees. Shortly after the employees purchased the plant, they obtained a contract to build massive crates for shipping B-17 and B-29 bombers overseas for the war effort.
After World War II ended, the former Sears Mill – now called Illinois Lumber Company – drafted and published their own book of house plans and tried to sell Ready-Cut homes again, but without success. The Cairo Evening Citizen relates that the plant was liquidated and closed in November 1955. The article adds this interesting aside: "Like several other Cairo lumber industries, it slowly died because the wood articles it manufactured were supplanted by iron and steel."
All that remains today at the site of the Cairo mill are two Sears kit homes – two Rodessas – which were built as part of an experiment in 1921, to prove the superiority of Ready-Cut homes over traditional stick built homes.
Not surprisingly, Cairo has a significant collection of Sears Homes, such as this "Hollywood" (see below).
Below is an advertisement from the 1911 American Carpenter and Builder Magazine.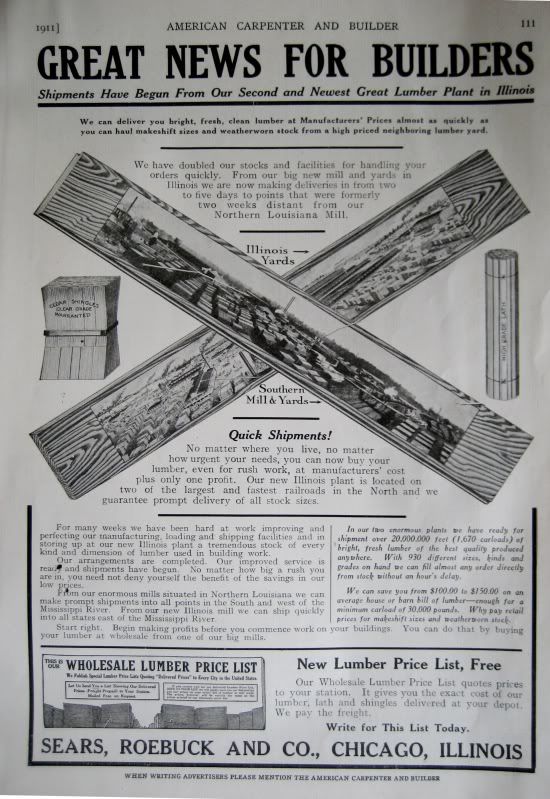 To see pictures of Cairo today, click here.
*   *   *