Monday night (May 2), they finally did it. The Army Corp of Engineers blew the levees at Birds Point in Southeast Missouri, flooding 200 square miles of Missouri's best farmland. The farms – those silly patches of black dirt where we produce the food that keeps us alive – were sacrificed in order to save the tiny town of Cairo, Illinois.
And the very next day, the lawsuits started.  On May 3rd, a class action lawsuit was filed against the Army Corps of Engineers. Farmers and property owners, represented by attorney J. Michael Ponder (Cape Girardeau, MO), allege that the 15-foot tall man-made tsunami destroyed (and will destroy) more than 100,000 acres of prime Missouri farmland.
The lawsuit claims that 5th Amendment rights are at stake, which offer legal protection for landowners before government can take private property. According to an article that appeared this afternoon on the PR Newswire, the cataract of water is flowing onto the farms at the rate of 550 feet per second, and (as one would imagine), it's causing catastrophic consequences.
According to Monday's Southeast Missourian, flood levels in Cairo reached historic highs on Monday night when the gauge hit 61 feet, shattering old records set 74 years ago. In February 1937, the rivers rose to 59.5 feet in Cairo, Illinois. Think about that for a moment. This flood of 2011 is breaking all known records.
The blown levees are good for Cairo; bad for the farmland in Missouri which experts say will be ruined for years. Midwestern farmland owes its fertility to those spring-time floods of yore, but this is not the way Mother Nature does things. When those levees were blown, that 15-foot wall of water brought with it sand and river-laden debris and all manner of pollutants found in flood waters. Experts predict it could take years for the farms to become productive again.
The Chicago Tribune reported that crops have already been planted on some of these farms that are now being inundated with this "man-made tsunami," destroying the crops and causing hundreds of thousands of dollars of damage to the local farmers. In addition, as many as 100 homes could be destroyed by this plan.
Cairo is an interesting little town, and was full of history, but much of their historically significant architecture is gone, and the remnant is in poor condition. A few grand old manses remain, but they're the exception. Most of the businesses and all of the industry left long ago. Cairo's downtown is a ghost town, and a virtual trip back in time to the 1960s. To learn more about Cairo's history, click here.
We've got to protect our farms. With the rising costs of food, it's time to start showing a little respect to the few family farms we have left in this country, many of which are in Missouri.
This time, I think it would have been wiser to let Cairo be the sacrificial lamb, rather than lose our farmland.
To read the opinion of a Cairo native, click here.
To read a happy story about a happy town, click here.
Pictures of Cairo are below.
Part of the charm of the downtown is it really is a step back in time. Notice the vintage cat in the foreground.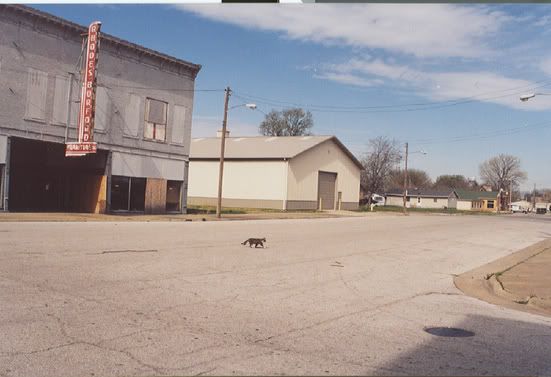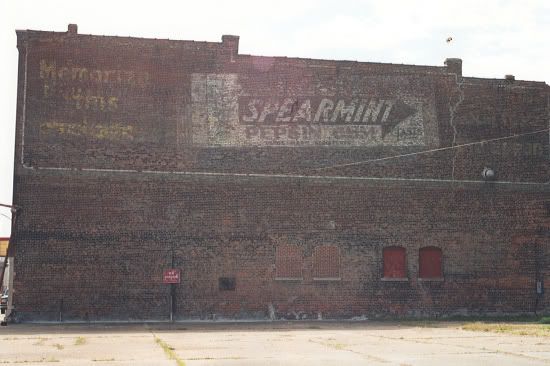 Spearmint "Pepsin Gum" surely got their money's worth out of this old advertisement.
To learn more about Cairo, click here.
Or watch a short video documentary on Cairo here. And another one here.
To learn more about Sears Homes, click here.
* * *